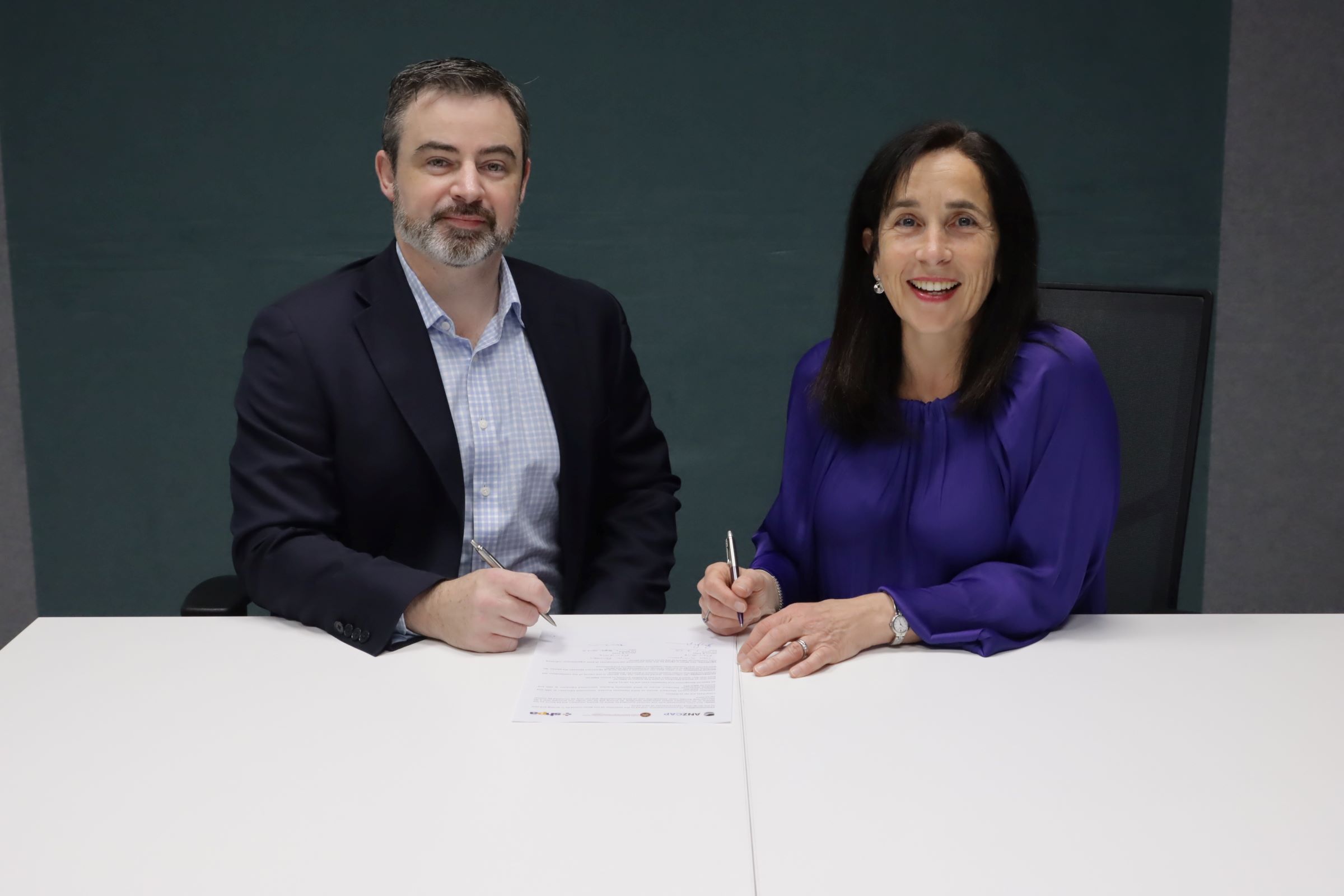 First Trans-Tasman hospital pharmacy partnership between NZHPA and SHPA
Professional collaboration and the advancement of practice in Australian and New Zealand pharmacy is a step closer today after the signing of a Memorandum of Understanding between the Society of Hospital Pharmacists of Australia (SHPA) and the New Zealand Hospital Pharmacy Association (NZHPA).

Pictured: SHPA President Tom Simpson with NZHPA President Sian Dawson at signing of MoU in Auckland

Mr Simpson says the agreement signals a new era of closer cooperation between the two esteemed organisations.

'Over a combined 150-year history, SHPA and NZHPA have passionately advocated for and supported pharmacists and technicians providing care for Australians and New Zealanders, forging a myriad of informal connections in the process.
'As part of our Transformation 2024 agenda, we're proud to put pen to paper today and take the partnership to the next level, which will include access to our upcoming professional recognition program and broader access to existing and new membership benefits for practitioners on both sides of the Tasman.'

Ms Dawson says the MoU will benefit NZHPA members in many ways.

'We're thrilled to forge closer ties with our Australian counterparts.
'This is much more than a gesture of cooperation. This MoU will facilitate direct collaboration, networking and information-sharing between Australian and New Zealand pharmacists and technicians through expanded SHPA membership options next year.
'A broader "knowledge pool" spanning our two countries has been sought for a long time and we look forward to working together to make it happen, supporting our practitioners and advancing patient care in both countries.'

SHPA and NZHPA Joint media releases
Last edited Sep 4, 2023, 9:14 PM
247 KB
Last edited Sep 25, 2023, 11:36 AM
262 KB
Roche Award and NZHPA Education Awards available now - closing soon!
As an NZHPA member one of the key benefits of your membership is the eligibility to apply for financial awards, we have several of these.
Note – not all memberships provide award eligibility.
Two of our awards are current open and closing soon on 1 Sept .
See below for more details, and we invite members to apply via the website.For the website application form scroll to the bottom of the awards page www.nzhpa.org.nz/awards
2023 Roche Education Grant
This grant is provided to NZHPA by Roche Products (NZ) Ltd to help pharmacists and pharmacy technicians working in oncology and haematology to access educational opportunities.
2023 NZHPA Education Grant
NZHPA administers a fund to assist members to attend courses, attend conferences to present papers, or to undertake special projects. Value of the award is at the discretion of the Executive. Typically values up to $1,500 have been awarded.
With any questions on either award please contact either Kathryn Lawrie, Communications Officer, or Lisa Van Der Spuy, Administrator on nzhpa@nzhpa.org.nz 0204 021 8887
Seeking nominations for the NZHPA Executive Committee
Are you interested in challenging yourself, giving back and taking a leadership role within the profession?

We have vacancies coming up this year on the NZHPA Executive. Nick Leach and Sian Dawson will be standing down and not seeking re-election, after nine and six years respectively on the committee. Kathryn Lawrie is coming to the end of her first three year term but will be seeking re-election.

So new executive members are sought, and we welcome nominations from technician and pharmacist members who, aside from bringing their individual talent and skills, will also be:
Willing to contribute ideas and collaborate with others to get things done

Interested in developing leadership and strategic planning skills

Self-motivated

Prepared to take on responsibilities as part of a team;

Available to attend monthly meetings (four full day meetings and and six shorter 90 min zoom meetings per year).
Please get in touch with any of the current Executive if you have any questions or just want to chat about the role in a bit more detail.
Nomination Process
Please complete the form from our website and send to nzhpa@nzhpa.org.nz. Nominations close: Friday 8 September 2023

Nominations to include:
Endorsements from two current NZHPA members (see attached form)

A short summary (max of 200 words) outlining what the candidate can offer the NHZPA Executive committee. This should include details of the candidate's current role within their hospital and their previous experience. It will be included in the voting pack that is sent to members should an election be required.
If we have more nominations than available positions, voting papers will be distributed, with the closing date for votes being Monday 30 Oct 2023.
If you have any questions about the role please get in touch with one of the current exec members
Executive nomination form
NZHPA Fellowship Nominations are open
NZHPA Fellowships are awarded to members, with at least 15 years' experience, in recognition of distinguished service to the profession of hospital pharmacy or in clinical pharmacy practice.
If you would like to nominate someone, please complete the attached nomination form, and a one page summary letter of support that will be available to the membership if the nomination is successful. This should:
Highlight their professional achievements, including their exceptional contribution to hospital pharmacy and/or clinical pharmacy practice.
Highlight their impact at a local, regional, national and/or international level.
Highlight the attributes that demonstrate they meet the criteria to be honoured as a Fellow of the NZHPA
Nominations should be sent to the NZHPA Secretary at nzhpa@nzhpa.org.nz by 5pm on Fri 29 Sept 2023.
Last edited Aug 24, 2023, 10:51 PM
113 KB
NoIDs Opportunity - looking for Chief Editor
Read more about it here.
Closing Date: Wednesday 26 July 2023
How to apply: Submit your CV and cover letter to Kim Brackley by 5pm Wednesday 26 July.
Tech SIG Award Applications NOW OPEN!
Applications for the Tech SIG Award are closing soon
FIVE $200 grants will be provided to NZHPA Tech SIG Members to help cover registration, travel, accommodation and meals costs incurred attending NZHPA Technician SIG Symposium.
Due date for applications - Friday 14 July
Expression of Interest - EPIC (NZHPA Environmental Pharmacy Initiative Committee )
Recent consultations
Last edited Jun 13, 2023, 5:46 PM
633 KB